JetFormBuilder Affiliate Program –
Get 50% per sale
Help us to make JetFormBuilder more popular. Spread the word and get your commision.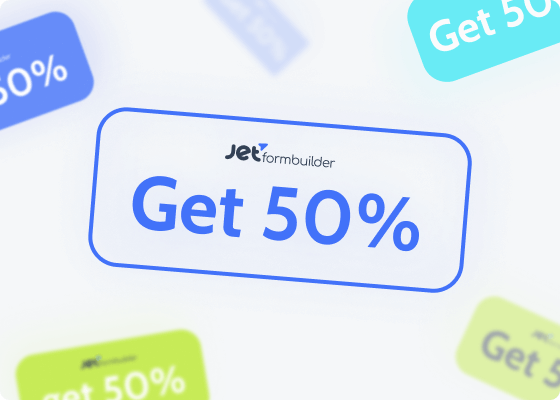 How does

the Affiliate Program work?

Get a unique affiliate link and start earning with JetFormBuilder.
Step 2
Sign in to your account and generate a unique referral link
Step 3
Place the link across your media to refer new users
Step 4
Get 50% per sale whenever someone purchased via your link
How to effectively use your affiliate link?
Place it on your website
Tell about your experience working with JetFormBuilder in your blog.
Use it in guest posts
Show how easy one can create a WordPress form using JetFormBuilder plugin.
Send a Newsletter
Share affiliate links in your next newsletter for your subscribers.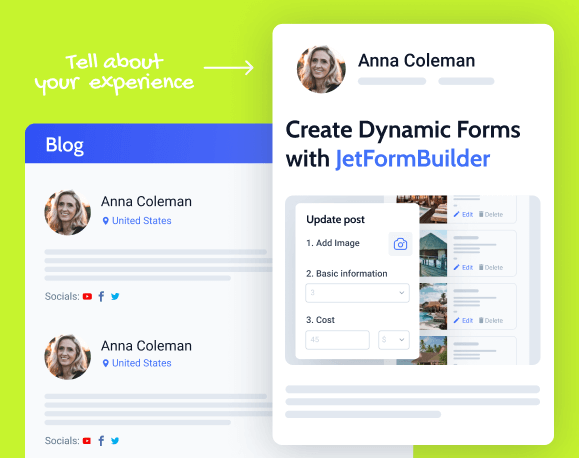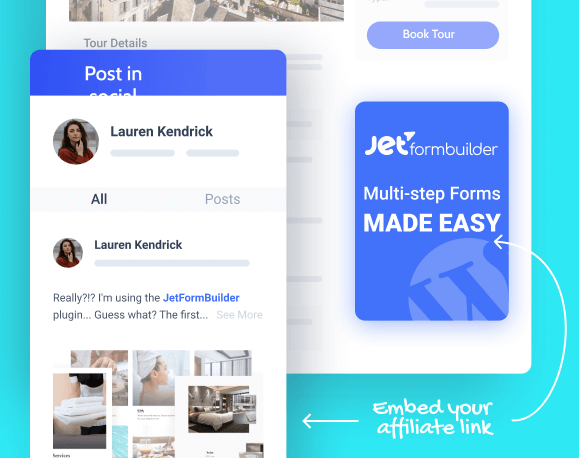 Try banner ads
Embed your affiliate link in the banner advertising on your website. Even a small footer link can bring you profit.
Share it on Social Media
Consider giving affiliate links on Twitter, Facebook, or another social media platform.
Create video review
Share your feedback or full JetFormBuilder tutorial with your Youtube subscribers.
Affiliate Program Policy
Learn about the terms and conditions related to JetFormBuilder Affiliate Program
Read more
Check our FAQ:
Still have some questions?
How can I become an affiliate?
JetFormBuilder welcomes all new affiliates!
To register, please fill in the short form, and you are good to go
Sign in to your account and generate a unique referral link
Distribute content about JetFormBuilder across your media platforms and refer the new users via your affiliate link
How much can I earn with JetFormBuilder?
Our affiliates get 50% of every successful sale.
Important: the affiliate sale is tracked only if your visitors proceed to JetFormBuilder website via your referral link.
Where can I promote JetFormBuilder?
Blog, YouTube, Social media pages. Fantasy is the only limit! Embed referral link into the banner ads (you`ll find them in Account > Creatives), reviews, articles, videos, etc. If you need anything for promotion, just drop us a line: [email protected]
Does the affiliate payout apply to the license upgrades?
No, the affiliate payout is applied only on the purchases coming from new JetFormBuilder customers.
When will I get the earned money?
The minimum amount for withdrawal is $100.
According to JetFormBuilder policies, we offer a 30-day money-back guarantee in case the customer is not completely satisfied with the products. Consequently, the affiliate payment is processed within the first 15 business days of the month that comes after the period which covers the 30 days money-back guarantee.
A quick example. Your referred customer made a purchase on November, 20. The customer's money-back guarantee expires on December, 20. Your affiliate payout will be approved within the period January, 1 — January, 15. This payout can be withdrawn if your accumulated affiliate earnings amount is minimum $100.
What payment system should I use to get the money?
The affiliate payout is transferred via PayPal. You need to have a valid PayPal email address assigned to your account to receive the payments.
Where to check how much I've earned?
You are welcome to track the earnings in your account. Head over the Affiliate Area, Payouts section.