Insert/Update Post
Description
This Post-Submit Action creates a new post of some post type or edits the existing one according to the data the user put to the form. The information from the form fields is inserted into the post's meta fields you choose. In case of the updating, the values of the chosen meta fields are rewritten according to the data the user adds to the form fields.
Settings
Post Type. In this drop-down menu, you will find all types of posts available to you. If you've created some Custom Post Types using such plugins as JetEngine or ACF, they will be on the list too;
Post Status. Here you can choose the status of the created or updated post after the Action will be performed. For example, if you choose "Published" for Insert Post Action, the created post will be immediately published;
Fields Map. All the fields you have added to the form so far will be listed here, named by their Field Names. And there is a drop-down menu next to every field's name. In that drop-down, you can choose the post's meta field where the data from the form field will land. As you can see, it is possible to link the form field not only to custom meta fields but to the default ones like Post Title or Post Content, too;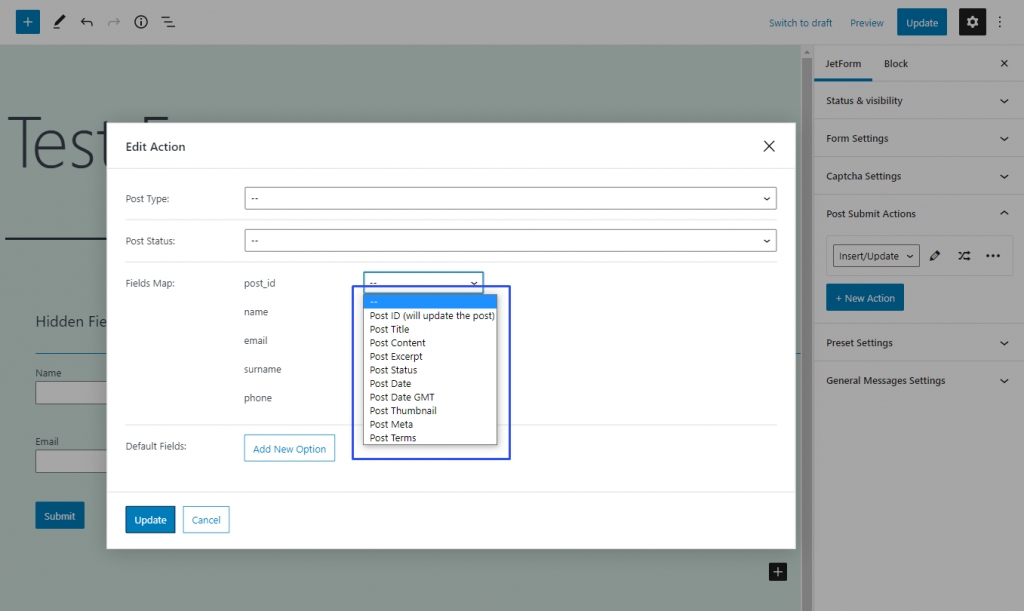 Default Fields. If some of the post's meta fields have to be filled with some specific data, you can set them here. In the Meta Key bar, you type in the name of the meta field and add the value you need to the Meta Value text area. The default value will be added to the meta field only if that field is not connected to any of the form fields.