Redirect to Page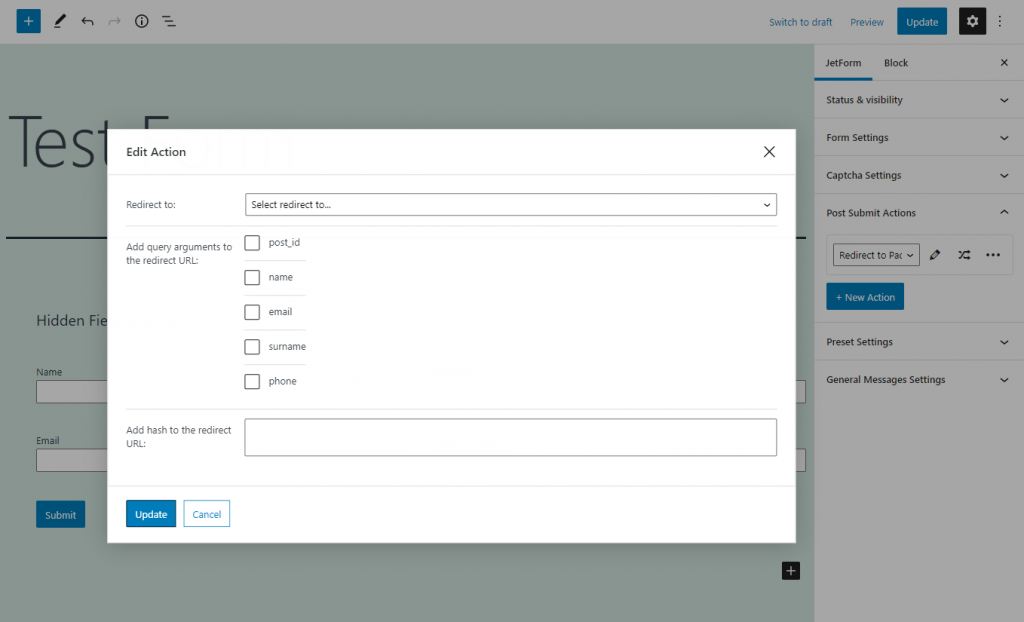 Description
When the user clicks on the "Submit" button, this action redirects him/her to another page. Here, in the editing window, you can define the target page.
Settings
Redirect to. In this drop-down menu, you can choose the type of page you would like to send the user to:

Static Page – here you can choose one of the pages of your website. The Select page drop-down list contains all the pages you've created so far;
Custom URL – you can type any address to the Redirect URL bar, and this action will redirect the user there;
Current Page – the user will be redirected to the same page he/she was on but you can add some query arguments or hashes to it;

Add query arguments to the redirect URL. In this section, you can see the list of the fields, added to the form. When you tick the checkbox near one of the fields, its value is used as the query argument and added to the URL;
Add hash to the redirect URL. The subject of the letter that the user will receive;
From Name. TYou can add an additional part to the URL by using a hash. Type it into this text area, and it will be added to the redirect URL.